Yesterday at work was zany. It was our annual halloween parade, and our first ever Pumpkin Drop. Earlier in the week was the auditions for our talent show (another first, my bright idea). In between, I sandwiched more university observers, yet another new student teacher (male this time) and "fun" halloween lessons (using all the "cool" instruments). The kids were nuts all week.

The talent show auditions went surprisingly well. We set it up "america's got talent" style. Art, music and pe combine classes and the three of us, + new (male) student teacher, were judges. The kids in the classes were the audience. We had a lot of fun. I took my meds and got along surprisingly well with everyone else. The actual talent show will be in a few weeks, no judging then, just all fun.

Yep, i'm back on my meds. My anxiety, combine with hormonal depression, and a new feature, paranoia, convinced me that i've got a real problem and should not EVER be out in public without meds. Ever. At least, I should be on meds until menopause hits, or my baby making sack is removed, whichever comes first.

Yesterday, it was impossible to concentrate on anything after the Pumpkin Drop in the morning. It was the Art teacher's idea. Each class brought in materials to package up their pumpkin, hoping to insulate it in the best way possible. We brought in a crane and our principal went up in the bucket, 80 ft into the air and dropped the boxes. (one of the pictures i took here.) PP totally moved up to the "YOU ROCK!" level in my book.

Even the newspaper was there. They got the kids' names wrong, but they were there.

I snapped a couple shots with my camera phone, hoping to post on facebook, but was too mesmerized to do much more than send a confusing pic to hubby. I did shoot a ton of pics with my regular camera (as did a number of us) and that is posted on our school's web page. I took video as well, check out a link here (it's just like being there!). The kids were wired. We were wired. The kids knew they had a halloween party later in the day. It was a great and zany day.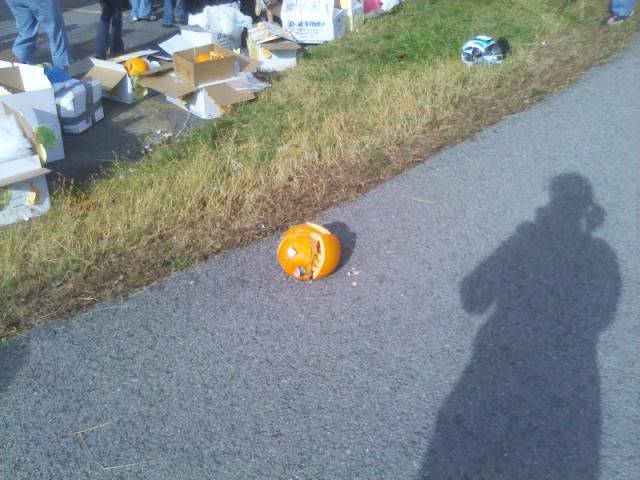 The only picture of me, and it's my shadow. I was slightly spastic at the time, all that blood and gore and pumpkin guts.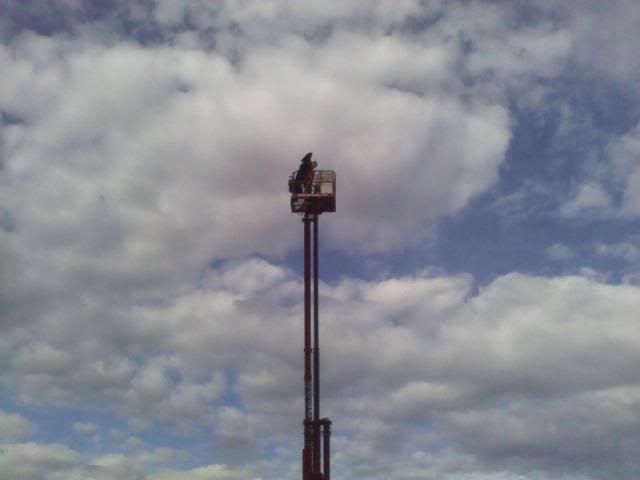 Still slightly spastic, trying to figure out how to work my camera phone. I gave up and took 100 pictures with my regular camera.
...which are on my work computer...sorry. Check out the
link for more pumpkin guts.