Join me on a road trip to Grandma's. Yes, these were taken while driving. After viewing them, my husband said I shouldn't be allowed to own a camera, but I said, homeboys were out on the streets and i was afraid to stop and he said, well, nevermind what he said, when he prayed at supper that evening he thanked God that we made it home safe. And I replied, "God made me do it."

You can't argue with God.

Anyway, here we are, driving to Grandma's.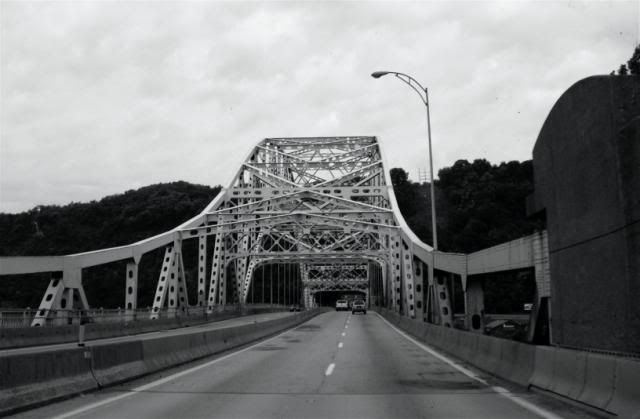 Over the river and through the woods.
I love the bridges around Pittsburgh.
So here we are entering Clairton, the City of Prayer.
I wasn't fast enough to capture the signage.
I really wanted to get out here and snap some gritty pictures of the mill, but I didn't think I'd be able to get to my Mace fast enough if need be.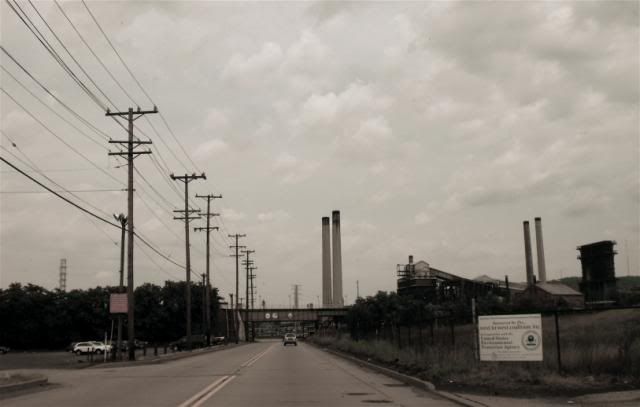 Clairton Coke Works. Somehow it managed to stay alive while most of the other steel mills in the valley shut down. They quit making steel there and only make the coke that fires up the steel furnaces at another location.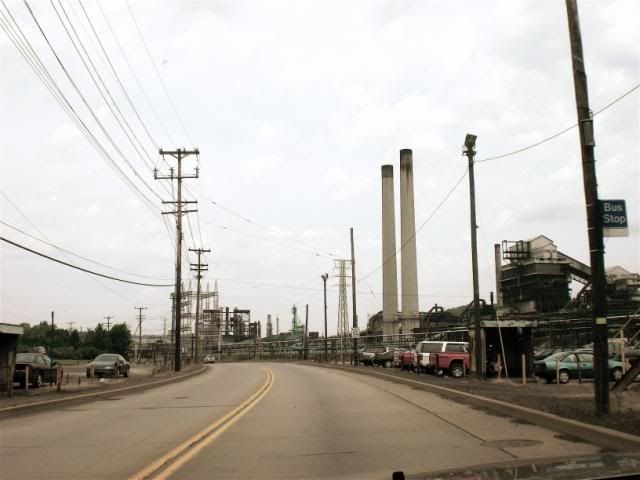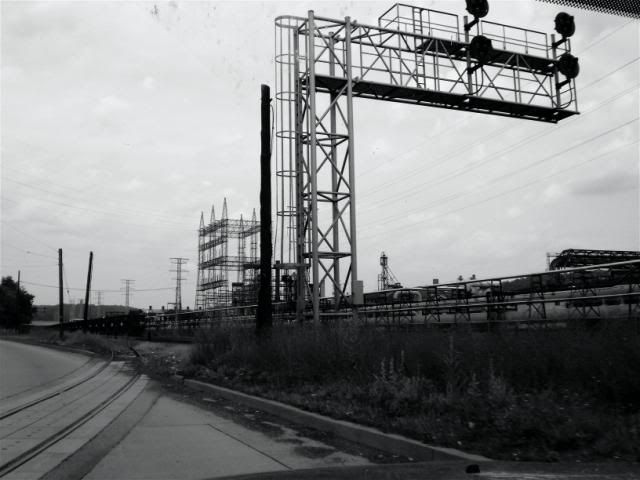 As a kid, I always liked this railroad crossing.
Something about how the tracks cut diagonally across the road instead of perpendicular.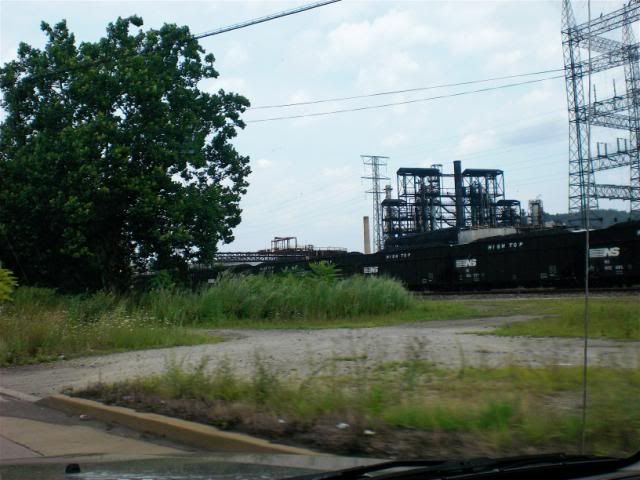 There's an old cemetery on the other side of that tree. Very old, older than the mill. Cool.
Mill entrance.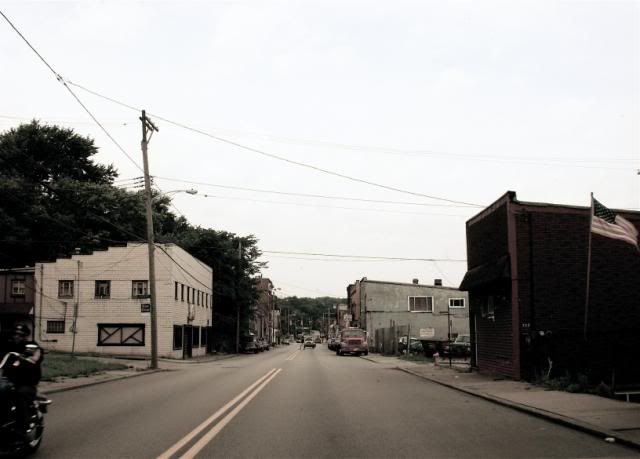 Love this Americana shot: dude on motorcycle a, gritty buildings, and the American flag.
Notice that said dude does not have a helmet on. They don't have to in the great state of Pennsylvania. They're studying the Darwin Effect.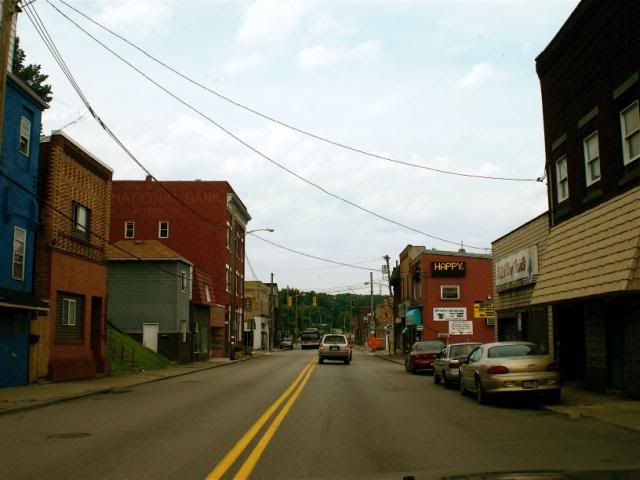 I couldn't resist the colors of the buildings on the left. And the "Happy" on the bar on the right.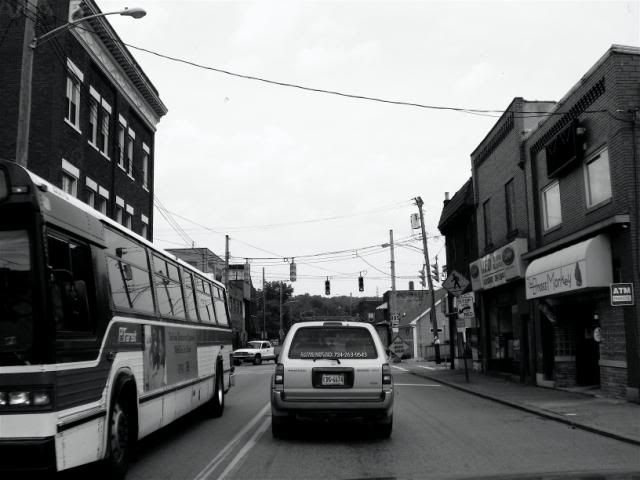 This is how I remember growing up. Mom and I took the bus everywhere. Clairton, Glassport and Mckeesport. I even took it to school because
the Catholics didn't want me on their schoolbus
we lived
in the projects
too far out.
Grandpa was a born and raised Slovak, and when the City of Clairton went bankrupt in the 80's, he paid for me to go to catholic school. Except i was Protestant. and had a big mouth. and mom and dad made lots of trips to see Sister Dorothy, the principal. But, that's another story.
Anyhow, I would have made a great homegirl except that we moved to Glassport where I lost all homegirlness. And mom and dad thought public school might be a better fit. Glassport had two nationalities: Polish and Italian. Unfortunately for me, I wasn't either. But I learned from my experiences with Sister Dorothy and kept my big mouth shut.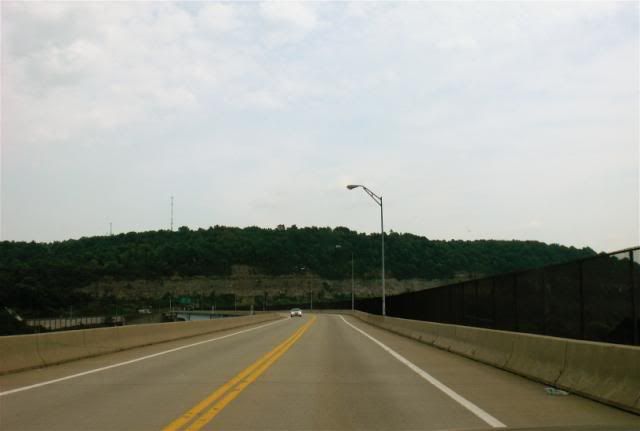 Clairton-Glassport Bridge.
But I digress.
Glassport on the right of the pic.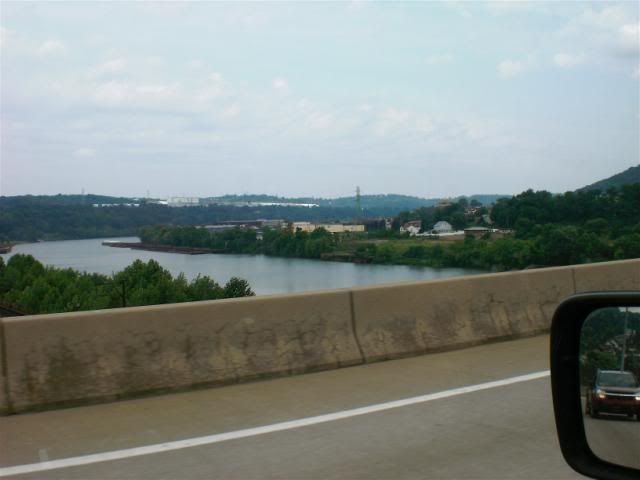 I always liked this view. USS steel mill on the hill.
Bend in the river.
Love those barges.
And folks it's called the Monongahela:
Mo-non-ga-
hail
-a
, as in "Hail Mary, mother of God, pray for us sinners now and in the hour of our death, amen". Not "heel-a" like people who live in morgantown, wv say.
Its understandable though, a river with barges and "still mills" takes on a life of its own, and they may not want to associate their relatively tame piece of the water with this one.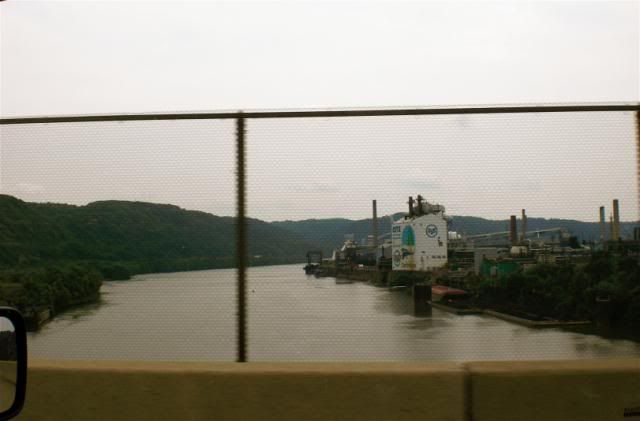 Clairton Coke Works on the other side. They rename it CITE.
Stands for:
C
ontinuous
I
mprovement
T
o
E
nviroment
I am not making this up, I swear on my hail mary's.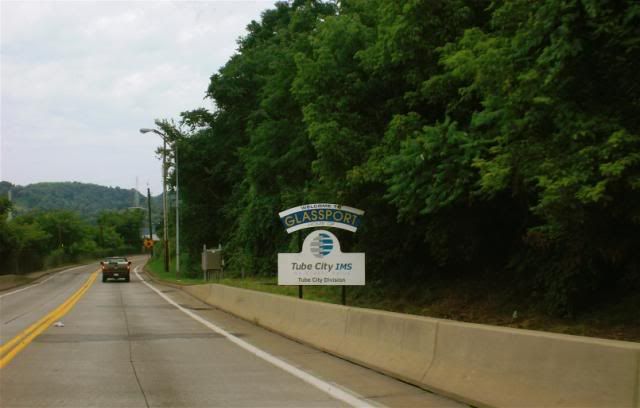 Finally, Glassport, home of Tube City.....
Does this remind anyone else of ZZ Top's "Tube Snake Boogie"?
Yeah, no wonder they kicked me out of Pennsylvania.
Good old West Virginia. I finally fit in here.
More Road Trip to come....